The amount of good we put out into the world is so precious and impressive. At times, we receive greater recognition for our work. Those moments need to be celebrated as the ripple effects they are – the ability to share our message and goodness with a larger group.
2021 Mom to See in the 803
February 2021, Columbia Mom featured me as a Mom to See in the 803. To know that I hold a space with an area code full of brilliant, gifted and giving moms worthy of this recognition humbles me. However, I want to acknowledge this moment is much bigger than me and my passion project, Givation. Though I coordinate the details of every give, the true magic only happens when like-hearted people take action. Thank you to all who continue to inspire and motivate me to grow the good – regardless of my other life responsibilities that can quickly consume me. Each of you are making a positive impact on the 803.
2019 WIS TV COVERAGE
On May 25, 2019, WIS covered our BBQ for the BRAVE event to raise funds for two different veteran organizations: 1.) Central Midlands Transitional Retreat for the homeless veterans, because no veteran should ever be homeless. 2.) Fisher House, they're building a facility over by the VA hospital to house family and veterans while they're having services at the VA hospital.
2018 WIS TV COVERAGE
On May 26, 2018, WIS covered our BBQ for the BRAVE event to raise awareness for the need of 90+ homeless veterans living in Lexington, SC. They didn't fail us when called to serve, how can we fail them now in their time of need?
2016 BILLY WEBSTER AWARD
At their annual meeting on January 27, 2017, Senior Resources celebrated the impact we made on seniors in our community. We were nominated and selected to receive the 2016 Billy Webster award. This honor is g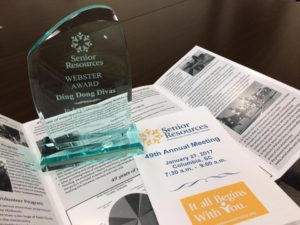 iven each year to a person or group who exemplifies the spirit of giving.
The following efforts have helped to enhance the lives of seniors while supporting Senior Resources mission to keep their clients living independently as long as possible:
Spring 2016; we assembled 35 buckets overflowing with cleaning supplies, and spent a Saturday delivering them to Home Care clients. The toilet brushes, paper towels and Lysol wipes were certainly a big help to these seniors, but the personal visit brightened their day just as much.
Fall 2016; we were back again, collecting soup, crackers, cereal bars and juice, assembling 400 shelf-stable meals which included drawings and notes from local students. These meals came at a critical time, as the funding Senior Resources usually receives for emergency meals was not available this year.
2016 WLTX Coverage
On September 22, 2016, WLTX covered our give as we assembled bags of soup and self-stable food items for our home bound seniors. This was a great opportunity to share the message about senior food insecurity and the ability for our community to come together to help bridge the gap.